Hotel Insurance & Guest House Insurance
Hotel insurance is an integral part of working in this area of hospitality. With dozens (or even hundreds) of guests to look after, ensuring they are safe and protected is an important part of being a successful hotel. Your property and premises, staff and guests, and your overall income must be covered if you are to have peace of mind. From buildings and contents insurance, to public and employers' liability insurance, you can bring together all these vital features into one overarching policy, tailor-made for your specific needs.
What You Need to Know About Hotel Insurance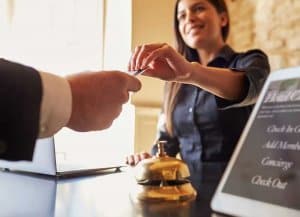 Do I need hotel or guest house insurance?
Legally, any guesthouse or hotel owner is required to have guests contents insurance, as part of the 1956 Hotel Proprietors Act. However, it is advisable to have a hotel insurance policy in place, to protect you and your business in the event of an accident or a liability claim.
How much is hotel or guest house insurance?
The cost of your hotel or guesthouse insurance policy depends on numerous different factors: Number of rooms, annual turnover, members of staff, whether food is served, the type of building, and whether any events are held at the hotel.
What hotel insurance policy features do I need by law?
If you employ one or more people, even on a volunteer basis, you will need to take out employers' liability insurance. This will protect both yourself and your employees from costs accrued through accident, illness or injury that occurred during the course of daily work. You will receive a significant fine if you do not have this type of cover.
What is excluded from a typical hotel & guest house policy?
The most common exclusions from these types of policies are accidental damage and theft by forced entry. Due to the frequency of occurrence, and difficulty of proving culpability, most insurers will not cover these risks.
What other notable policy features should I consider?
The following are popular additions that many choose to integrate into their policies:
Personal Contents Cover
This can be a good addition if you or any staff reside in your hotel full-time and protects your personal belongings.
Legal Expenses
If you are taking legal action against someone, legal expenses cover will claim for financial support and legal costs pertaining to the case.
Loss of License
This will pay out should your license be revoked, ensuring that any assumed income during this time is covered.
Policy Features of Hotel & Guest House Insurance
Property/Premises
This will include buildings insurance for your actual bricks and mortar location, and contents insurance for the items held within. Find out more about Property/Premises Insurance.
Liability Cover
Protection against any injury or illness claims made by the public or employers' against your business. Read more about Liability Cover.
Guests Contents Insurance
This is a legal requirement as part of the 1956 Hotel Proprietors Act and covers guests' belongings during their stay.
Business Interruption
In the event of your hotel/guesthouse being uninhabitable (e.g., flood or fire damage), your income will be covered. Business Interruption Insurance.
We Partner With






Why QuoteSearcher for Hotel and Guest House Insurance?
As a hotelier, you come across many weird and wonderful people and situations as part of your profession. Meeting guests from all walks of life, and often championing your local area, your hotel or guesthouse is often an integral part of a person's holiday or break away.
Because of the ever-changing and sometimes unpredictable nature of your job, you need to be covered against a number of factors. Only with a detailed guest house insurance policy will you be able to run your business smoothly, and with peace of mind.
QuoteSearcher understands the unique demands of being a hotelier, which is why we have an extensive panel of specialist insurance brokers whose job it is to offer you competitive guest house insurance quotes for bespoke policies that cover all eventualities, whether you run a village bed and breakfast, or an upscale boutique hotel in the city.
I am really pleased with the quote I got from you for my guesthouse and wanted to say thank you for helping me out.
At last! A quote website that is simple, easy and quick to use!!! I just had to send in a quick email to congratulate and thank you.
Let's find the right Hotel & Guesthouse insurance for you