We Partner With









Why Use QuoteSearcher to insure your Campervan?
Trying to find the right cover for your campervan? Journey in confidence with a fully comprehensive insurance policy. At QuoteSearcher, we do the groundwork for you, connecting you with a breadth of insurers who specialise in campervan insurance. Fill out our form to start the process!
For campervan owners, life is about travel and exploration. With your very own accommodation-on-wheels, you are able to journey through the UK and abroad, discovering new cultures and enjoying the great outdoors. But, you need to know you are protected, and this is where your insurance policy comes into play.
Campervan Insurance Policy Features
Agreed Value Cover
Pays out an agreed value, not the market value, in the event of total loss. Read more Information about Agreed Value Cover.
Limited Mileage
Lower premiums for keeping annual mileage under a specified minimum. Read more Information about Limited Mileage Insurance.
Contents Cover
Cover for items such as awnings, gas bottles and personal equipment
Import Cover – including Left Hand Drive
Specialist cover for campervans imported from foreign countries. Read more Information about Import Cover.
Core Policy Components
Differing from standard car insurance, campervan insurance is more comprehensive and looks at a number of situations that could occur on the road. There are a few key components to consider when looking at policies:
Breakdown Insurance
Although it might not seem so bad to break down in a vehicle that can double as a bedroom, getting back on the road is always preferable!
European Cover
If you plan on taking your campervan abroad to explore Europe, you should inquire about European driving cover, for extra peace of mind
Agreed Value Insurance
You will be paid out to an agreed value in the event of a total loss, so your campervan value may depreciate, but your pay-out will remain the same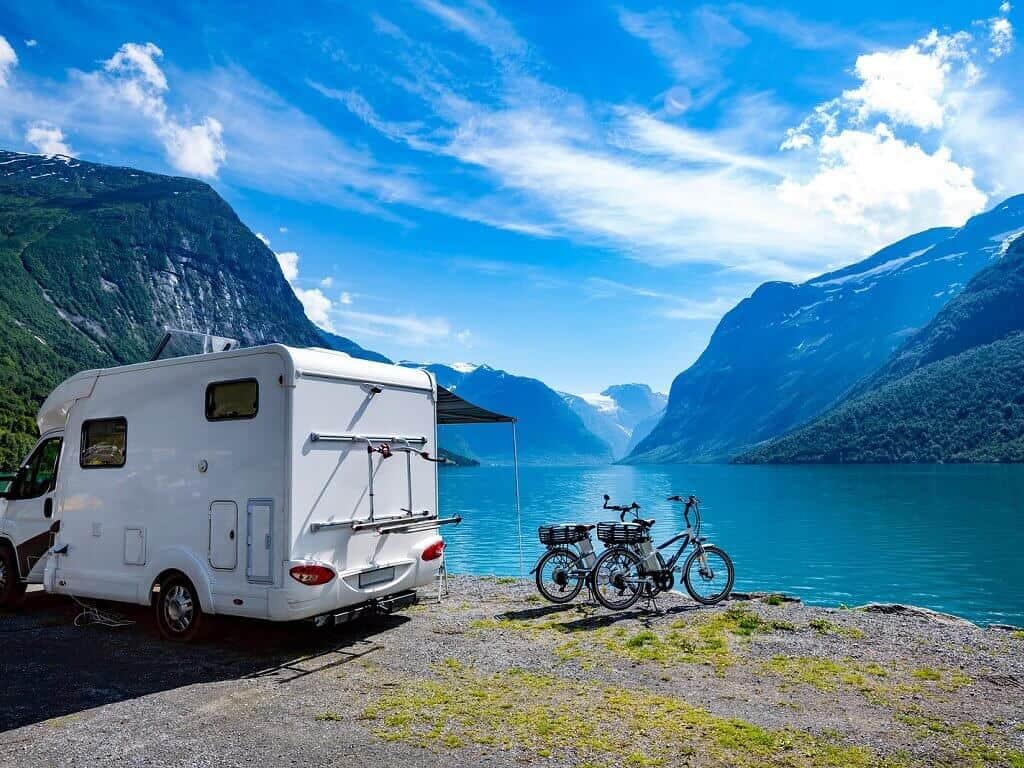 Why Do You Need Campervan Insurance?
Campervan insurance helps to mitigate the inherent risks associated with owning and operating a campervan. 
For example, if you get into an accident with another vehicle and you do not have insurance in place, you would be liable for the costs of repairs to both your campervan and the other vehicle. Another example is theft; if your campervan is stolen and you do not have it insured, you will not be able to claim back the cost of replacing your campervan. 
There is a legal minimum level of insurance you must have in place if you are driving or operating any vehicle on UK roads, this is called Third Party Only (TPO). This protects the third party against costs accrued if they are in a collision with you and it is your fault. You can upgrade to more detailed cover in the form of Third Party, Fire and Theft, or Comprehensive cover. Comprehensive cover is suggested as this will protect you from a wider range of potential situations than the bare minimum.
What are the differences between motorhomes and campervans?
The difference between motorhome and campervans is the way the vehicle is used. For example, a motorhome may be larger and come with more of the mod-cons you might find at home. Whereas, a campervan is generally used more for exploration and transport. Campervans often don't have the height or weight of a motorhome, meaning they are easier to maneuver, drive, and park.
A motorhome may be built on a larger van chassis and therefore supports more room, such as bigger bathroom and kitchen areas. The term motorhome has been used to describe many vehicles that double as sleeping/living areas, so it is important to be aware of the type of vehicle you own in insurance terms.
What Does Campervan Insurance Cover?
TPO is the bare minimum cover you need by law but this will only cover the cost of damage to the other vehicle. Third party, fire and theft (TPFT) will cover fire damage and theft of your vehicle, but the best way to get peace of mind is to choose a fully comprehensive policy. 
If you opt for a comprehensive policy you can extend your insurance to cover a wide range of elements. For example, you may want to include breakdown cover as part of your policy, allowing you to receive roadside assistance and repairs without having to pay from your own pocket. Another feature you could choose to include is limited mileage cover. Many people only use their campervans during the summer and leave it in a garage or driveway over the winter months. With limited mileage cover you will pay a reduced premium as long as you keep your campervan's mileage below an agreed number. 
How much does campervan insurance cost?
There is not a set standard price for campervan insurance, however here at QuoteSearcher we work with a panel of highly dedicated partners who specialise in campervan insurance. This means you are more likely to receive a competitive quote for your insurance. Fill out our form to be put in touch with our panel and start designing a bespoke policy that works for your needs.
Many of our customers have saved up to 35% on their campervan insurance using QuoteSearcher as we provide the best price guaranteed.  To find the cheapest quote we ask for information concerning your vehicle, the amount of drivers you want to cover and the type of cover you require.
Frequently Asked Questions about Campervan Insurance
Can you insure a campervan for 6 months?

When it comes to campervan insurance in the UK, there are a few options available for those looking to insure their vehicle for six months. Campervan owners can purchase single trip or annual policies that provide coverage for up to six months at a time - although some companies may offer additional coverage periods.Single trip policies can provide cover for a set period, often of up to six months, and are particularly useful for those who are travelling abroad. Annual policies provide the same coverage for a longer period and can be renewed each year.

Can I drive a campervan on my car licence?

It is important to note that there are various types of campervans available and each type requires its own licence category. The most common types are Class B (or mini) campervans, which are the smallest and lightest vehicles in the campervan class; Class C (or RV) campervans which are larger motorhomes with a separate cab and living area; and Class A motorhomes which are large, luxury coaches.In most cases, people in the UK who hold a standard full car licence will be able to drive mini and RV campervans with no additional requirements. To drive a larger Class A motorhome, however, they must obtain an additional category C1 licence, as these vehicles are heavier than 3.5 tonnes.

Can I add a campervan to my car insurance?

Adding a campervan to your car insurance in the UK is certainly possible, but it may require additional steps. It's important to check with your current insurer ahead of time to see if they are able to offer campervan insurance as part of an existing policy; some insurers may only be able to provide it as a separate policy. It's also important to bear in mind that you may need to pay an additional premium for the campervan coverage.
My insurance is now completely sorted thanks to QuoteSearcher. After visiting their site I received some superb quotes and was insured more or less instantly!
Thanks to QuoteSearcher I am now fully insured. After looking at all the quotes I received, I chose the right policy for me and was insured more or less straightaway!
Let us find the right campervan insurance for you