Self-build campervan insurance is a specialist policy designed for people who have built their own campervan from scratch. It covers the vehicle itself as well as any specialised equipment you may have added such as cooking appliances, furniture or other modifications.
As well as providing protection for your self-built campervan, many policies also offer additional benefits such as breakdown cover and windscreen repair. The level of cover that you choose will depend on your individual needs.
What Kind of Coverage Do You Need?
When choosing a self-build campervan insurance policy, it's important to consider what kind of cover you need. Most insurers will offer different levels of cover which can range from comprehensive policies which cover the full cost of repairs and replacement parts to basic third party only policies. You should also think about any additional coverage options that may be relevant to you, such as personal belongings cover or roadside assistance.
The cost of the policy will depend on a variety of factors, including the value of the campervan and any additional items that you wish to insure. It's also worth checking whether your insurer offers any discounts for having more than one vehicle insured, so that you can get the best possible deal.
Features You Should Consider
When taking out a self-build campervan insurance policy, there are several features that you should consider. These include:
Specialised equipment cover: This will cover any specialised equipment that you have added to your campervan, such as awnings or cooking appliances.
Windscreen repair: Most policies will offer at least some cover for windscreen repairs. This can help reduce the cost of replacing broken or cracked windows in your campervan.
Breakdown cover: This can provide assistance if your campervan breaks down while on the road.
Personal belongings cover: This will cover any personal possessions that you keep in your campervan, such as camping or electronics equipment.
Third party liability cover: This will protect you from any legal costs associated with an accident involving another vehicle that was not caused by you.
Modification cover: This will provide protection for any modifications that you make to your campervan, such as new paintwork or a personalised interior.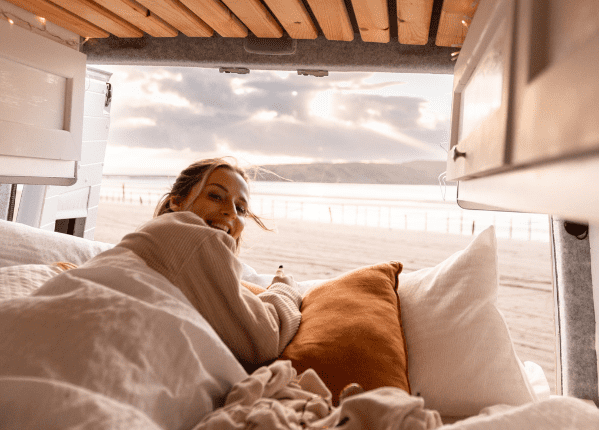 By considering these features when looking for self-build campervan insurance, you can be sure that you have the right level of cover for your needs. It's also important to check what optional extras are available, as these can help to increase your level of protection.
For example, many insurers offer additional cover for driving in Europe or provide rental vehicle coverage if your campervan is stolen or damaged. You may also be able to add breakdown cover on an optional basis, which can be useful if you are planning a longer journey.
Finding a Competitive Quote
One of the best ways to find a competitive quote for self-build campervan insurance is to compare policies from a range of different insurers. This will help you to understand the various coverage options available, so that you can make an informed decision about which policy is right for you.
QuoteSearcher partners with a panel of expert insurance brokers who specialise in designing bespoke policies for your self-build campervan, so you can enjoy what really matters instead of sweating the small stuff.