Self-employed courier insurance is essential for couriers who are running their own business. It provides cover for a range of risks, including physical damage to goods or vehicles, public liability arising from the actions of the courier, and any losses due to theft or fraud.
Types of Cover
The type and level of cover required by couriers will depend on their individual circumstances and the nature of the services they offer. For example, those who regularly handle expensive items such as medicines or fragile goods may need more comprehensive cover than those carrying only light parcels.
In addition to physical damage and liability insurance, couriers may also choose to take out additional policies for things like:
Legal expenses: Covers the costs of seeking legal advice and taking action if a dispute arises with a customer or supplier.
Cargo insurance: Provides cover for any losses incurred as a result of shipping goods.
Goods in transit insurance: Protects against loss, damage or theft while goods are being transported by the courier.
Business interruption: This covers any profits lost due to events such as illness, injury or a breakdown of the courier's vehicle.
Employer's liability: If couriers employ staff or subcontractors, employers' liability insurance is required by law. It provides cover for claims made against them by employees in the event of an accident.
Reduced earnings due to illness or injury: This can provide protection against the financial impact of any unexpected events that could disrupt a courier's business operations.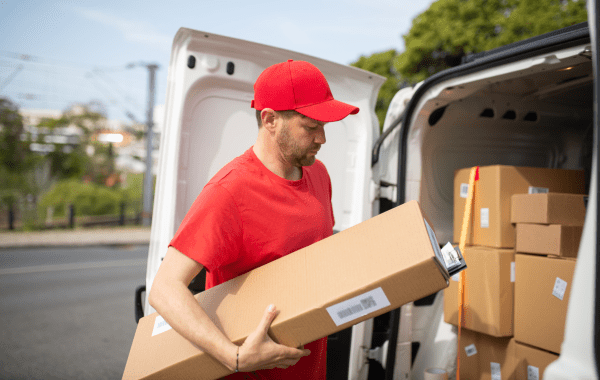 As well as ensuring they are covered for all potential risks, self-employed couriers should also make sure they have sufficient cover in case of accidents or breakdowns. Many policies offer cover for damage to vehicles, as well as for the cost of repairs or replacement parts. Breakdown cover can also be beneficial in case of any mechanical or electrical faults that could prevent a courier from completing their deliveries.
Choosing the Right Policy
Couriers should shop around to find the right policy for their business. When comparing quotes, it is important to consider both the cost and level of cover offered by each provider. It's also wise to read the terms and conditions carefully, so that couriers understand exactly what they are covered for and any exclusions or limitations placed on the policy.
Self-employed courier insurance can provide essential peace of mind for couriers who are running their own business. It's important to take the time to find a policy that provides the right level of protection at an affordable price, allowing them to confidently deliver goods and services with assurance that they have the necessary cover in place.
In addition to self-employed courier insurance, couriers should also ensure they are familiar with relevant legislation and any regulations that apply in their particular area. By taking the time to prepare for unexpected events, couriers can be well prepared for any eventuality and help safeguard the future of their business.
Why Choose QuoteSearcher?
At QuoteSearcher, we understand that finding the right self-employed courier insurance can be time consuming and confusing. That's why we strive to make it as easy as possible for you to compare quotes from a range of providers in one place. With our quick and simple online form, couriers can get instant quotes tailored to their individual circumstances and find the policy that best suits their needs.
So, if you're looking for self-employed courier insurance to protect your business, look no further than QuoteSearcher. Get in touch with us today and let us help you find the right cover at the right price.